Posted by Lanea on Friday, October 10th, 2008
I know most of my ABC-along posts have been more philosophical, but right now I'm just excited that this is done!  I made this bag entirely from things I had on hand.  I came up with a general design and then jumped in.   I felted a bunch of sweaters, none of which were repairable, cut them up, sewed them onto scrap twill, made a reinforcing base from some scrap plastic, lined it with some leftover fabric from quilting, and added some buttons I had on hand.  I love it when a project comes together from what I already have–the best dinners often come about that way, as do some of the best hand-made items.
As with most of my scrap projects, I love thinking about where these wool squares came from.  The pale green was my favorite cashmere sweater (sigh).  The brighter green was a sweater that had one too many run-ins with Scath, and the orange was just never the right shape.  The browns were old sweaters of Scott's, the bright blue is from a thrifted sweater that was worn clear through at the elbows and cuffs–clearly a good friend to the man who owned it before.  
I added a key-clip on a lariat, since I hate to lose my keys in a bag.  I also added some pockets to the lining for pens and a small notebook.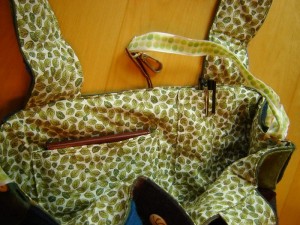 My favorite little feature are the two side-pockets though.  I don't think most people would notice them, and they seem like the perfect spots for silly little somethings. 
I still have lots of felt squares, so I can absolutely see a sibling in the works.  If only I didn't have that silly job in the way of stitching.
Filed in ABC along,felting,knitting,sewing | 6 responses so far
6 Responses to "T is for Tote!"
It's a great bag!

Very nice! And isn't it great to carry your memories around with you?
I love putting pockets inside bags – and I really like throwing in "secret" pockets…

ellery

on 11 Oct 2008 at 3:42 pm

3

Amy, what a fabulous bag! Perhaps in my past life I was a "bag Lady." I seem to have an affinity for them. I especially love the pop of blue.

Great bag! If you ever get tired of your day job…

Marfa

on 13 Oct 2008 at 9:40 pm

5

Fabulous bag!!! As a big patchwork fan, I really appreciate this great bag.

XOXO

Lovely tote! Such a cool idea!
Leave a Reply