Posted by Lanea on Sunday, February 24th, 2008
The small linen quilt is finally finished.  It took about 20 minutes of quilting.  Sadly, it also took about 6o miles of driving, spread out into many, many trips to regional fabric stores.  I'm not proud of that.
For whatever reason, I started the quilting on this top using just the right green thread, ignoring the fact that said thread came on a small spool, and I just had the one, and that not all shops stock the stuff.    So I've spent far too much time looking for enough thread to finish this quilt over the last month or two.  And, being me, I bought lots of fabric and other thread while searching for the spool of thread I needed.
When I finally found the elusive thread, I bought all they had, which wasn't actually that much.  I predict I will decide to use it again for a thread-intensive item, like the big linen quilt to follow this small one.  And then I will be stuck in this guilt-inducing, ludicrous situation again.  Sigh.
Still–pretty quilt!  I'm not sure what I'll do with it, but I'm glad I made it.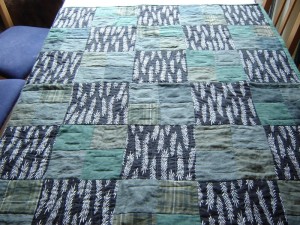 My head is full of ideas for other wonderful projects.  I spent yesterday at the American Craft Council show in Baltimore with a bunch of friends.  I bought nothing but some greeting cards, but I saw amazingly beautiful things.  Including the glass spinning wheel that caused such a buzz a while back. Ruadhan and I started asking the artist about spinning on it, learned that he'd only put commercially-produced string on it to make sure it would draw, and both cringed because we hadn't any unspun fiber to force on him.  His aside of "They're spinners . . ." to his booth-mate probably said all he needed to say.  Clearly, other spinners have met this talented artist and tried to either make a spinner out of him or weasel the wheel away from him.
Filed in sewing | 7 responses so far
7 Responses to "Roundabout"
bibliotecariaon 25 Feb 2008 at 9:44 pm

1

You made the quilt out of linen and not cotton? What's the batting? I want to make one out of all wool — but that's because I am extremely cold-natured and I think want something for cold winter nights.

Giggling. I can only imagine the number of over-stimulated spinners who have flipped their lids at the idea it has never been actually spun on. I mean, it is a virgin, that wheel. We can't HAVE that.

I love that quilt, it's gorgeous.

great quilt! frustrating with the thread. Suggestion for the next quilt you use with the thread….use it on alternate blocks or lines…then if you do run out, use another colour, and then it look perfectly intentional! and very clever 😉

I really love the colors. It's like a little old fashioned quilt. It's very sweet looking, Lanea

It is beautiful. Those somber woodland colors – what will it make you dream?

I wandered around in the glass spinning wheel link, which led me to the absinthe fountains, which leads me to wonder; who's tried it? Wikipedia says it's not poisonous or addictive.
Leave a Reply