Posted by Lanea on Wednesday, March 12th, 2008
Embroidery was my first craft, as I explained a few years ago in a book about fiber arts. I feel I give it short shrift these days, using it now and again to adorn something else I'm flirting with, but rarely working steadily on a project for more than a day or two, and even more rarely finishing anything other than a little flourish on another project.
My lack of drawing skills holds me back. Once I have a design, I can embroider it or carve it into leather. But I can't get what's in my head down on to paper–there's a gaping hole in my process, and I have to rely on friends to bridge that gap. I can't explain the disconnect, but it's there and it's one of the only things that I really regret about being who I am. If there were only a pill I could take . . .
I also run into a stylistic problem with a lot of embroidery. Some of the stuff I'm best at stitching isn't actually to my taste. I own very little of my own work for that reason. The Jacobean crewel piece above is a prime example. For the first time ever, I bought a kit to see if I could still work my needles as I had as a kid. I can. And once I finish, what will I do with it? Like so much of what I make, I'll give it to someone and hope they appreciate the work that went into. And I'll worry that they don't.
Another stalled project? Perhaps one of the most ludicrous things I've started. I will finish it eventually, I guess, but it will take a long time. It's a crazy quilt with an entire queen sized flat sheet for the foundation. All of the fabrics are scraps left over from clothing I've made for friends. And the bigger designs were all drawn for me by friends. I've been working on it on and off for about 15 years. It's a riot of colors. It's too much. It's too big to work on comfortably. It forces me to abandon so many of my natural sensibilities about art and craft.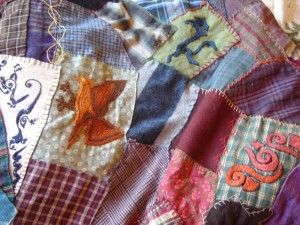 A lot of the other embroidery I've done is utilitarian, in a sense. Pieces on garments, stitched heavily–lending an almost tapestry-like effect–so that they last through hard work and washing. This piece was on a dress for years. Eventually I'll attach it to something new. I've actually made it twice. The first time, I needed something to work on while I was studying in the UK one summer in college. I finished it on the flight back, and learned upon landing that a good friend of the family had given birth to twin girls–one a brunette and one a red head. I stitched that first version into a pillow and presented it off to their mother.
I've gone searching for more inspiration for embroidery recently, and I think I've found some good stuff. We'll see if my will can overcome my whims.
Filed in ABC along,sewing | 8 responses so far
8 Responses to "E is for Embroidery"
Those are all beautiful. I see your point about the utility of the fancy embroidery, though–I love the style of that first piece, but I can't quite imagine something like that in my life instead of in an art museum.

Your embroidery is gorgeous. I have the same problem, though–I love doing the stitches, but can't draw worth beans!

Wow, I'm absolutely in awe. I think your skill really shows through on the first piece, but I really love the quilt–and the little orange birdy–the most.

Can I just add that that is totally what I'm doing–leaving the page before I type the verification code? Because I just caught myself doing it. I clicked "post", wandered back to my Google Reader window, signed out, closed that window, and saw your window still sitting there asking me for the code. Too much multi-tasking is bad for your health.

Your embroidery is so lovely…. I hope that you do not abandon that crazy quilt – it's so cool. I have an antique one that I have been "restoring" off and on over the last 30 years. (and maybe I'll finish it one day!)

Your embroidery is so lovely…. I hope that you do not abandon that crazy quilt – it's so cool. I have an antique one that I have been "restoring" off and on over the last 30 years. (and maybe I'll finish it one day!)

ellery

on 13 Mar 2008 at 6:24 pm

7

Your embroidery is truly lovely, and your writing is equally as beautiful. And really, would you ever want your crazy quilt to be finished? It seems like an archive of friendships and stories.

Very gorgeous stuff. It's a lovely art and very old. Embroidery was my first needlecraft, too. Mother and Grandma taught all the children from the time they were small. It was some quiet time that we could all share. Grandpa played the guitar and sang for us in the evenings, and we did little needleworks. Start em early! 🙂
Leave a Reply