Posted by Lanea on Tuesday, March 25th, 2008
F is for felt.

I've been making felt for several years now, using a couple of different methods.  I was first attracted to it for historical reasons, of course–felt was probably the first fabric we humans made, and that warms my Luddite soul to the core.  But as I've worked with it, I've fallen in love with the way felting affects the color of the wool, and with the strength and water-resistance of good felt.  One of my favorite knitting bags is my Constant Companion, which is both pretty and bullet-proof–a rare combination.
Felting is also one of those forms of frugality that appeals to my recycling, reusing, and reducing heart.  This bag I'm working on is made up of felted scraps from ruined sweaters.  I chopped up a few cigarette-singed beauties I found in thrift stores, but the rest of the felt for this project came from some sweaters Scott and I loved a bit too much.  I started collecting supplies for this a couple of years ago, felting commercial sweaters  that wore through at the elbows.  My stash of felt was too drab, so I just wasn't excited to start piecing.  Then a couple of weeks ago I went through my mending basket and realized there was no good way to fix a few of my favorites, which are in colors I love of course.    The purple one in the lower corner was theoretically superwash, so I put it in gentle cycle, and it came out unwearable.  Sigh.  The other three–including the spring green Cashmere at the top left–had irreparable holes.  All four felted like mad once I tossed them in a hot wash–see the kitchen shears for a sense of scale.
I chopped the sweaters into 3″ and 2″x3″ blocks, and started piecing them to a thin twill foundation, also made up of scrap fabric.  Each face of the bag has a green nine-patch in the center, and the sides and a bottom are more randomly pieced.

More than half of the felt tiles are affixed.  I'm trying to pick the right lining fabric and plot inside pockets and possible closures.  The greens and blues are much brighter than they seem here, so there is some great contrast playing on the bag.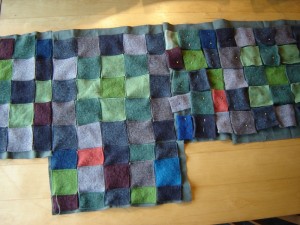 If that's a confusing image, from left to right, it's a side, front above the bottom, side, and then back you're seeing there, with a big seam allowance for the top hem.
I'll have plenty left to make at least one more bag this size once this is done.  And then maybe crazy-patched felt when only the small scraps remain.  Ahhh, felt.
Filed in ABC along,felting,sewing | One response so far
One Response to "F is for Felt"
I just love it. And the little bits of orange are perfect.
Leave a Reply