Posted by Lanea on Wednesday, April 16th, 2008
Last weekend, I went out west to visit with Two Sock Knitters, and another Sock Knitter, and a whole passel of contra dancers.  The University of Chicago hosted a fantastic dance weekend, complete with the fantastic bands Cosmic Otters and Nightingale, and the amazing callers Adina Gordon and George Marshall.  We went to tons of yarn shops, a quilt show, three of the four contra dances the weekend provided, restaurants, Irish sessions–I haven't caught my breath yet. 
We get the fun started with a trip to The Fold.  Of course we did–how could we not.  Jonathan got some spinning pointers from Toni, and Meg and I dedicated ourselves to supporting small business in the greater Chicagoland area.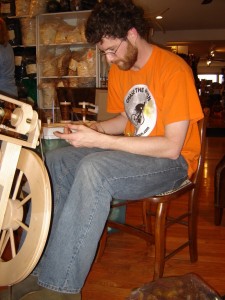 Toni has a thing or two worth considering on offer, in case you haven't had a chance to stop by.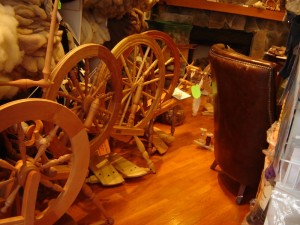 As usual, I didn't take enough photos, and many of the ones I did take aren't great.  Our surroundings for the dance weekend were beyond compare, though.  The university's buildings are gorgeously ornate.  Even the locks were gorgeous.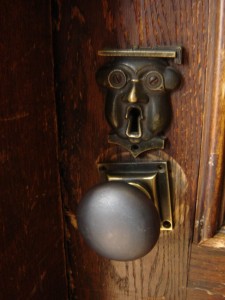 The stairs were worth the price of admission.

And the dancing and music?  Hot.  Inspirational.  Astoundingly good.   What a dance weekend.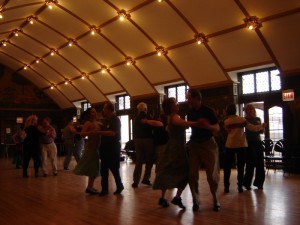 As if I wasn't happy enough with all of these things, both bands included footwork in their sound.  Ahhhhhhh.  These are Keith's feet during Nightingale's Friday night dance.  I couldn't take pictures on Saturday night because I had too much dancing to do.
I'll tell you about the quilt show and my visit with another sock knitter next.  Now, I need to go prepare for the continued remodel here at our home sweet home and count the days till my next chance to dance.  Soon, I'll be able to dance on my own floors for the first time in years AND I'll be rid of the biggest source of allergies in my life.  The mere thought is making my eyes well up with tears of joy.   Get on your feet, and tune up your instruments, people, because the floor is going to catch fire under your toes if I have anything to say about it.
Filed in dance,knitting,Music,sewing,spinning | No responses yet
Leave a Reply