Posted by Lanea on Sunday, April 20th, 2008
I may have a problem.
When I was visiting Juno a few months ago, I bought some gorgeous hand-dyed Lobster Pot Cashmere yarn in a soft green.  I held off as long as I could, but decided to bring the yarn with me to work on when I went to Chicago last weekend.  And then I gorged on it.  I would have swallowed the skeins whole if I didn't think someone would call me on it.
This is Branching Out.   You can't see from these dark photos how pretty the subtle color changes are in the yarn, but I think this is a great pattern for the yarn.  It allowed me to use as much yarn as possible, to make something really wearable, and to wear it where my skin will truly benefit from its warmth and softness.  Ahhhhhh.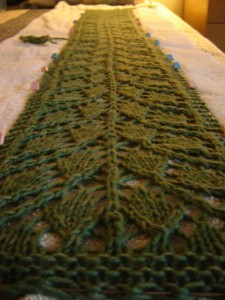 When last I wrote, I was talking about that lovely trip to Chicago I took last weekend.  On Sunday, Meg and I went to a great quilt show.  I was overwhelmed both by the marketplace (they were preying on my weakness for batik and Asian textiles, those sneaks!) and by the quilts on display.  I was astounded by the talent of the quilters showing.  I was paying a lot of attention to the use of black, to scale, and to the downright mania-inducing tiny patchwork some of these artisans engage in.  I'd never been to a quilt show before, and it was mind-blowing.  Photos of quilts never do them justice, and the people showing were brilliant technicians and great artists.  I hope I can come within a mile of their skills one day.
A  quick note–all of the quilts I photographed were open for photography.  At this quilt show, there were very clear signs displayed on a number of  quilts requesting that they not be photographed.  This is just a small percentage of the fantastic work that was on display.
There was a segment of the show dedicated to architecture in quilting, and another on photo-realistic florals.
This chicken quilt greeted us on the way it–it won the day.  And this fantastic embroidery?  Yeah, that's the back of a quilt.
I fell in love with this crow quilt.  Of course I did.  The purples and blues in the birds themselves, and the branches.  Wow.

And the crazy-making patchwork . . . some people have so much more patience and dedication than I do . . .
And, well, frogs play cards.  This was from a competition where quilters were challenged to use a specific line of fabrics as inspiration.  Gold star, I say.  Though black fabric mixed with batik and hand-dyed fabric was my obsession of the day.  Look at how those colors pop.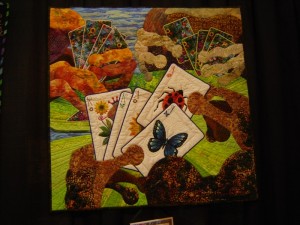 And then there were the reds.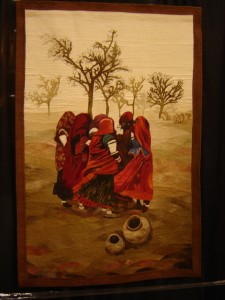 It was just all so good.  I'm afraid I've already crushed your browsers with photos, so I'll stop.
After the quilt show,  Meg was off to staff a show at the Old Town School of Folk Music and Jonathan and I went to a pub where he was playing in an Irish session.  And the wonderful Rachel came to hang out and listen to tunes and chat.  We've been online pen pals for years now, and last weekend was the first time we got to actually sit together and talk.  What a blast!  Listening to a friend play great tunes while talking about other great music with another far-flung friend . . . that's a good way to spend a Sunday night.
Monday morning, Meg and I got to go to Rachel's bookstore and see the spot it's moving to sometime soon, and then all three of us had a nice lunch.  It was tough to get on that plane back to Dulles.  Can one of you come up with a cheap teleportation method now, please?  It would make this friends-all-over-the-place thing much easier to handle.
Right–back to the remodel.  We have a new tub and most of the tiling is done.  Now we're moving furniture so the floors can go it and vacillating over paint chips.  I have to face packing up all of the books and my studio, and figure out what I can knit in the meantime.
Filed in knitting,sewing | 9 responses so far
9 Responses to "Branching Out, in more ways than one"
My sister was at the same quilt show! It's nice to see photographs of the quilts both of you enjoyed. Who knows, maybe you stood next to each other.

Very nicely put – all of it. We had a great time hosting you and had one of the most fun weekends we've had in a long time.

Thanks for posting all those quilt photos–they're beautiful.

Thank you very much for sharing your trips, the quilts, the dancers and the yarn shop with spinning wheels. Your blog is a pleasure to read.

Your Branching Out is GORGEOUS! I've been wanting to knit one for awhile, but I think I may go with the Lace Ribbon scarf instead. I'm not sure which, though.

I love those quilting photos! My mom used to quilt when I was a kid, and I was her little assistant. I'd be the one who looked at the blanket to make sure she didn't make any mistakes, since her eyes would go all woobly after looking at it for so long.

Oh, my gosh. Those quilts are amazing. I especially like the one of the women with the pots. Incredible.

Beautiful scarf, too!

Hugs, Jen

rachel

on 23 Apr 2008 at 9:28 pm

7

Delinquent pen pal and blog reader here. I had a blast too! Since you left, I've had a 10 foot pile of books tumble down on me, and unrelatedly (?) I can't seem to distinguish between what I've dreamt and what has happened in real life (seriously–halfway through recounting a story, I realized I couldn't be sure if it really happened or not). So basically, I think it's safe to say that I'm losing my shit over here. Need more fun! Now! And also, I can't seem to write a blog comment that makes the least bit of sense. I love your scarf. How come I never got to pet it?

Wow, those quilts are absolutely. stunning. It's so easy to forget somethimes that there's more to quilting than just log cabin and 9-patch squares. Those are truly works of art.

I love the Branching Out scarf, it's beautiful!

bibliotecariaon 05 Jun 2008 at 2:07 pm

9

Did you know about the Quilters Unlimited show that is in our area this weekend? It is non-juried and purely local, but there is some nice stuff there. http://www.quiltersunlimited.org/show.htm
Leave a Reply