Posted by Lanea on Monday, January 31st, 2005
I spent last week in an XML intro class at Learning Tree. Which means I spent last week cooped up in a room with 20 other people with long breaks that weren't quite long enough to leave for lunch. Which means I knitted like mad day in and day out for four days. I finished sock number two on the first day, made quite a lot of progress on Tchula's scarf on the first, second, and third day.
And then I broke a needle. I'm not sure how this happened. I broke a drawn ebony needle. I've never broken a needle. And I don't quite understand how it broke. It was fine. I stopped knitting at the end of the row and turned away, knitting in hand, to answer a question. I turned back to see a broken needle. I taped it back together and knitted a few rows, but worried I would damage the scarf in some way and stopped. I hope Lantern Moon has a decent replacement policy. If they don't, then no more lantern moon needles for me.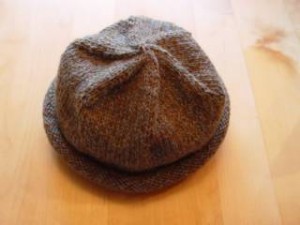 Friday, I started a hat. In an alpaca/wool blend. I made the pattern up on the fly, and ended up making a lovely hat for someone whose head is bigger than mine. Perhaps my desk-mate influenced my cast-on to force me into making a hat to fit her.  No bother.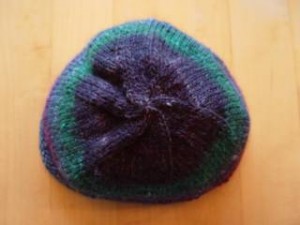 Lovely hat one was soon joined by lovely hat two, which is definitely mine. It's Noro silk garden, and the color-story is gorgeous. One and two are warming me up for the Brownie Hat. Swatch one ended up being too stiff and thick–Virginia only requires felt hats of a certain thickness, after all, and we want this hat to be wearable year-round. So I'll swatch again with a single strand, maybe on #8 needles.
Saturday brought me to Hunt Country Yarns to pick up a replacement bobbin for Spinny the Wheel and a maintenance kit complete with a scotch-tensioning cord and springs. The hats pushed the spinning aside for a bit, and the new needles are whipping through Tchula's scarf quite nicely. With any luck, it will be ready when I see her next Sunday.
Filed in knitting,spinning | No responses yet
Leave a Reply