Posted by Lanea on Monday, August 25th, 2008
I feel like I haven't mentioned—or shown proof of—knitting in a long time.  This is what I've been up to. 
I started a pair of mitts last  week, using a really great Trekking 100 colorway. 
My current plan is to add mitten and thumb caps, attaching them just below the ribbing.  I predict playing a fair amount of guitar outdoors this fall, so I want to have a few pairs of mitts.  I'm also thinking of adding a little pocket for a pick to one or both gloves, and buttons on the back of the hand to hold the caps out of the play.   I've just started the second one, and will plot out the caps in the meantime. 
I also made some great socks and didn't bother to mention them.   First, a pair of horseshoe lace  socks, in gorgeous green Spirit Trail sock yarn. 

Also, a very simple pair of ribbed socks in Mountain Colors Bearfoot. 
Finally, there's the project I'm having some trouble with.  I started the Celtic Cardigan when we were in Utah this spring.  I knew going in that I was overwhelmed by the color.   Well, I am still overwhelmed by the color, and have talked to Jen about overdying it with blue to tone things down.  I'm not happy with the shape of the sweater at the moment, but I know that the Lady of the Lake I made a while back grew a lot longer once I blocked it, so I plan to block this before starting on the sleeves, just to make sure this will even be wearable.  At the moment, it's too too wide and too short. 
But the green, oh the green.  It needs assistance.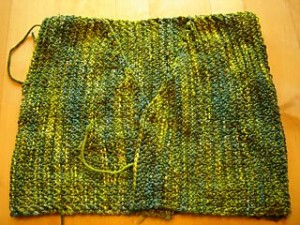 I've also done a few more book reviews over at Books For Ears, so check them out.
Filed in Books,knitting | 3 responses so far
3 Responses to "So, I learned to knit . . ."
Will the palms of the mitts be too slippery? Will you have to put leather on them?
My mother had started a quilt in bright greens and yellows. I think I overdyed it with some tea, but I gave it up.

Have you tried playing the guitar while wearing those mitts yet? They look like they come halfway up your fingers, and I have a feeling they might mute your high E string when you play. I have had the same problem while playing fiddle with my longest pair of fingerless gloves. I love that you're adding a pick pocket, too… I put one into one of my dresses and it's so much fun (and occasionally convenient!).

Mikele Ann

on 24 Sep 2008 at 2:31 pm

3

Dyeing – what's the material, wool? silk? Either way, no problem.

We will fix it, but finish it first. And be sure to do all the weaving in and stuff with the same yarn, though I don't know why you wouldn't.

Bevin_dyes
Leave a Reply