Posted by Lanea on Sunday, September 28th, 2008
This was a hard one–not picking the topic, but trying to decide how to represent it.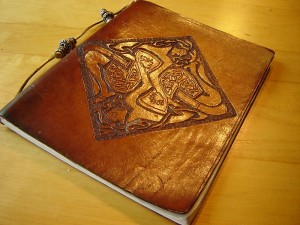 Music in general, and singing and songwriting  in particular, have been important to me for as long as I've given much thought to what's important to me.  I made this songbook when I was  a junior in college, and I've beaten it to hell and back since then.  I designed it with removable pages, knowing that I'd add and subtract things from my repertoire and tear out pages to give people lyrics or notes.  It's one of the few things I've tooled that I still have–I tend to give away most of the things I make along the way.  I toy with the idea of replacing it, but I doubt I'll bother anytime soon.  This is an old friend.
Filed in ABC along | 2 responses so far
2 Responses to "S is for Song"
Man, I love that book–so wonderful in design, appearance, content, and in the beautiful way it has aged. Perfect representation of song, for you.

Makes me want to pick it up and hold it, and open it, and see how it works.
Please don't give it away.
Leave a Reply