Posted by Lanea on Friday, November 21st, 2008
I am happy to say that Yarrow has gotten a clean bill of health from his vet.  His cone is off, his stitches are out, and he's off the junk.
Before his emergency, I was in a serious quilt-prep stage  This is what I'm working with
I got a bunch of Tula Pink fabrics from her Nest, Flutterby, and Full Moon Forest collections.  Most will be incorporated into a single bed-sized quilt, possibly attic windows.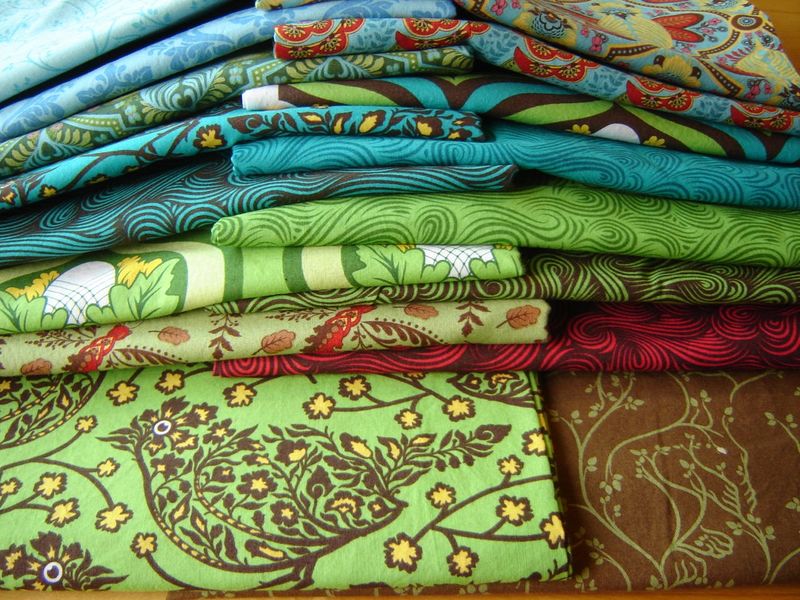 I also got enough to complete my acquisition-phase for a batik bed-sized quilt.  I admit that my eyes are now and have always been too big for my stomach . . .
And I got a number of botanic prints for sock bags, sports in quilts, and whatever else comes to mind.
After years and years of scrap quilting, it's a real relief to have yardage to use for quilts.  I'm excited to see what comes next.
And now, gentle reader, I'm outta here.  I'm in Massachusetts, surrounded by wonderful knitters, and I can't resist their siren song any longer.
Filed in sewing,Travel | 5 responses so far
5 Responses to "Feathering the nest"
Oh, what wonderful gorgeous fabrics! Can't wait to see what you do with them…
I still have to have serious love for a print to buy more than a fat quarter. But there have been several lovelies over the years that I bought 2 yards, then wished I had gotten 10!

Oh, good! I was just going to ask you about Yarrow.

And those are some *beautiful* fabrics.

KathyMarieon 26 Nov 2008 at 2:16 pm

3

I'm starting to get interested in quilts, having completed my first sewing project (ever) recently. I haven't even begun to think about quilts the way you are, but it's so inspiring to see your take on them. The fabrics look gorgeous!

Glad to hear Yarrow is doing fine now!

Hopefully now you can get working on the batik quilt – I just love the colors!

rachel

on 03 Dec 2008 at 9:43 pm

5

Would it be wrong to collect fabric without learning how to sew?
Leave a Reply