Posted by Lanea on Monday, January 25th, 2010
I've not been much of a record keeper, lately.  There were additional computer problems, the usual chaos of the holidays, real snowfall, visiting dogs, new furniture, work, knitting, baking, and who knows what else.  But I'm here, and all is well.  To make up for my laziness and absence, I will charm you with pictures of Kaio the Wonderful.
We were camping back at our old Samhain site near Charlottesville, and our old water-and-snow dog could not bear to stay out of the icy river.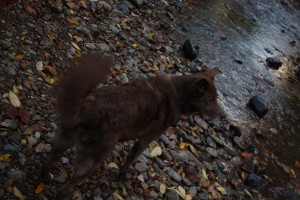 Here is my best news: my Mom is done with chemo proper.  She will start radiation next month, and will continue receiving herceptin infusions through next autumn.  She was fortunate enough to have relatively mild side effects from the chemo, in part because of the meds she received and in part because she is a trooper.  I've been able to escort Mom to her weekly infusions, which has been a real treat, believe it or not.  It's fantastic to spend time with her, and to see that she is getting such excellent care and tolerating the treatment so well.  Other family members have joined us many times as well.  You know you're doing something right when your loved ones test the limits of the guest policy at the cencer center.
My second best news: we ended up replacing some furniture, which is unduly exciting to me.  First, our old flat-pack cheapo dressers started spitting out ball bearings and just generally falling apart.  Wonder of wonders, we were able to freecycle them, and to find affordable new Mission-style dressers made of wood.  Actual wood.  And we replaced our adorable Marsh Hoosier, which was just the wrong shape for the space, with this great Mission cabinet. Some dear friends of ours are taking the Hoosier, which makes it even better–the only thing better than finding that perfect thing is knowing that the not-quite-perfect-thing it displaces will be appreciated and used.
I love the fact that most of the pottery in that cabinet is made by, in descending order of volume:
* One of my dearest friends.  Many of those pieces were also carved or glazed by other dear friends
* A Canadian potter I respect and love to share stories and drinks with
* Three potters I regularly beg to charge more for their work
* Several friends who throw now and again; and as-yet-unmet artisans whose work I cherish.
I made a chocolate and hazelnut Yule Log for Christmas, which was delicious.  I am a dedicated Nutella lover, and I promise you that homemade chocolate hazelnut butter kicks the store-bought stuff square in the ass.  My niece Talia was gracious enough to help me decorate the cake, which we then destroyed.
There has been some knitting going on, but it seems to be less of an occupation than usual thanks to all of the reorganization and purging going on.  I have more to show you, but too little light.
Hedgerow mitts for my friend and Sis-in-law Tchula: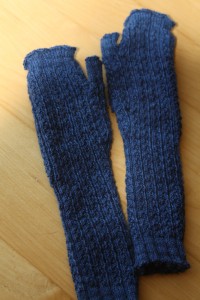 and for my step-dad, he of the perpetually cold hands and all-things-red: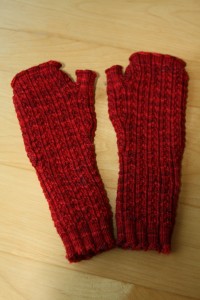 and some socks in Mini Mochi for me.  I predict they will die a quick death–pretty but weak, this yarn.
I hope 2010 is treating you all gently.
Filed in blather | 5 responses so far
5 Responses to "Flitting about"
It all looks wonderful! I'm so happy for you.

Isn't pottery amazing? I always thought, "Oh, I could do that," til I worked in the art building, and started watching, and then picking things up and handling them. I was "cleaning" when one show was set up. I picked up a cup – fairly plain, not in a fantastic color – and was instantly transported. It fit my hands so well, it was a shock. And then there was the day that the kiln had just been emptied, and I got to pick up all these pieces still warm!

If I had the money, I would replace everything (nearly – we must allow for grandmothers) with hand thrown.

I will cease going on and on now.

rachel

on 26 Jan 2010 at 10:17 pm

2

So glad to hear about your Mom! I've been wondering how she was doing.

Jacki

on 27 Jan 2010 at 1:12 pm

3

Thanks for the update! I am so glad your mom is in a different stage of treatment and recovery. She rocks! The furniture is beautiful, mission style is my fav. Take care and keep on doing what you are doing.

bibliotecariaon 29 Jan 2010 at 11:18 am

4

Mission-style furniture in actual wood that was reasonably priced? Where? Speaking as someone In The Area who also would like something like that?

That yule log looks so wonderful! (And better than Nutella, you say? Hmmm…)

May all your changes continue to be happy ones.
Leave a Reply