Posted by Lanea on Wednesday, December 23rd, 2009
At long last . . . proof that I've been out and about with my camera.
After a long day at Rhinebeck: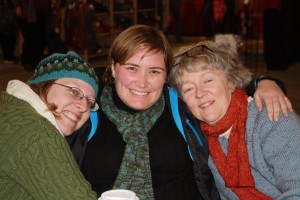 Clara signing the Knitters Book of Wool at the KR Retreat
A Hedgerow Gathering.
Minh, waiting to get into the marketplace at the KR retreat:
More soon!
Filed in Uncategorized | 3 responses so far
3 Responses to "Photographic Evidence"
Yay! I especially like the Hedgerow Gathering!

Love the "Hedgerow Gathering" – awesome!

What is that pretty green sweater over in your photos? I clicked on the furry thing (sheep?) that I don't see now, and got led to four pictures, one of which was a nice green sweater, which I would like to make, maybe, except in brown.
Leave a Reply