Posted by Lanea on Monday, November 19th, 2007
The camera and the computer are talking again, so let me get the show and tell over with. Boogie dyed up some fantastic yarn for me to use in my blanket. It came this afternoon, and I'm afraid it's way too gorgeous for the blanket. Thankfully, Ruadhan was at the house when it came, and she exudes a great amount of knitting reason. She agrees that the yarn has a higher calling.


Not that I don't love the blanket–I do. But this yarn needs to be featured–it's a front and center kind of yarn, not a supporting, structural, acceptable yarn. Maybe some patterned knee socks are in my future. Or a shawl. This would be a gorgeous shawl. Something else will finish the edging.
This is what I bought at the retreat:



Some beautiful roving, green laceweight, and green sock yarn from Jen, and some raspberry Claudia Handpaints and some blue Jitterbug. I'm really excited to finish spinning my current fiber so I can move on to what Jen made. It's so much deeper and more satisfying than the Lorna's candy floss I'm playing with now, which I'd been avoiding for ages.
This is the sock yarn that came off the stash table. Blanket two is going to be made up of only watery colors. Some of these bits may have other uses too, though. Like that skein of wool/tencel on the right.
And this is where the blue got really powerful.

The two columns on the left are all wool/silk that Rosi brought. They want to be made into . . . . something lacey and maybe mobius-y. Yep, English major powers are strong today.
And these were in the goodie bag we received upon arrival. Along with Vogue Knitting on the Go Socks Two, a knitting audiobook, and some Lantern Moon Circs.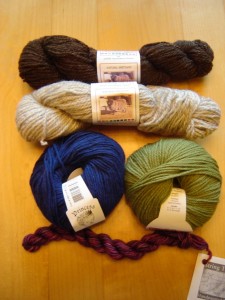 I may never buy yarn again.
Filed in knitting | 2 responses so far
2 Responses to "Show off"
Never? Crazy nonsense talk.

Oh, my! What gorgeous yarns/fibers/colors!
Leave a Reply