Posted by Lanea on Tuesday, April 5th, 2005
I finished the largest thing I've ever knit last night. It's the second of two (eventually) felted bags knitted out of some Annabel Fox yarn that I got as a gift but didn't want to wear. I know, I'm felting rare yarn. I forgot it was rare until the first bag was felted and the cobwebs cleared, and then I proceeded to use it all up. Hah! The felting Gods demand supplication, and I oblige them. I can't wait to felt this thing. It is currently big enough to turn it into a couch cushion. I want to make it downright dainty. I want the felting to defy laws of physics.
I felted my little Legs-like rabbit, and he's pretty cute. I'll give him to my niece Talia for her birthday–I hope she likes him. You can never tell with three year olds. My husband swears it belongs on Newspaper Rock, because the rabbit prefers to have its arms straight up in the air, and its belly is a bit overstuffed. He's a plump stick figure. I must embroider a bit of a face on him, though. Or maybe on her? I guess it's up to Talia to decide. What I know for sure is that Kayo wants to eat this rabbit and keeps looking at it longingly, wishing we'd give it to them. I think I've accidentally raised a dog with no respect for stuffed animals.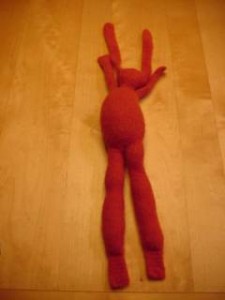 And I'm going to test this fantastic pattern for the folks at Figheadh Yarnworks. I was looking at yarn in my stash last night, but I'm very tempted to use the pattern as an excuse to buy some new yarn. There is a particular color of Cascade 220 that literally makes me drool. I think I have some weird form of synesthesia that connects inedibly-colored things and my saliva ducts. Strange but true.
Filed in felting,knitting | No responses yet
Leave a Reply