Posted by Lanea on Saturday, April 16th, 2005
I have felted the second teal bag. It is entirely different from what I expected. And it is good. Rather than a column, it morphed into . . . well . . . roundness.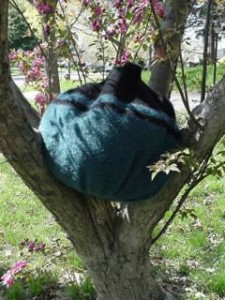 It's like one of those egg baskets, except if this were full of eggs, it would be really really heavy. I think Kayo would fit in it, but he is too tired to loll about in a wool bag.
Kayo has been fetching mohair, since there are no ducks about, and we seem uninterested in taking him hunting. So he busied himself. He is a good retreiver.

All right, all right. I got the yarn at Dancing Leaf Farm in Maryland. They're on the Countryside Artisan's Tour. Mom, Talia and I had a wonderful time there–two lovely dogs, many lovely sheep, and some fantastic fowl. And then there was the yarn. The yarn I ended up choosing is a combination of lush blue mohair yarns. Their color is much more intense than it seems in the photo. It is destined for lacey things.
Before there was yarn, there were pots and amber and Amber and Mary and Lucy and Barnaby, the latter being canines. Talia was in animal loving heaven all day long. Sadly, she seems to have no interest in yarn or pottery or jewelry. Yikes.
I will go back up to Dancing Pig tomorrow to work on some stuff for Tuatha and laze amidst the fine pots and the fine folks. And I will go knowing that my needles are safe and proud in their new home. Virginia and Morna are too talented for words.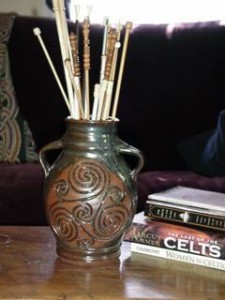 In other news, I am suddenly spinning wool yarn into thread. Her is my newest yarn next to a size one needle: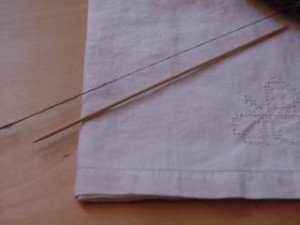 It's not the finest handspun thread I've ever seen, but I'm very glad to have developed this skill, particularly since I've been reading so much about the string revolution lately. I just hope I can remember how to spin yarn I want to knit. This is hella skinny.
Filed in felting,knitting | No responses yet
Leave a Reply