Posted by Lanea on Sunday, April 24th, 2005
I have hats on my mind. I felted the Figheadh spirally hat, and while I was at it, I felted a little prototype bag that I had planned to needle felt a lovely design on. So the red hat felted first, and I started some preliminary blocking. And heads are well shaped for blocking hats, so I plopped the wet felt onto my noggin and went along with my day.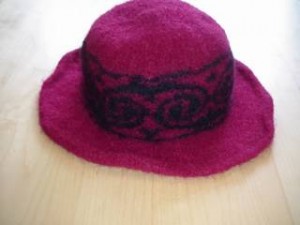 And soon the green bag was felted, and I started blocking it, and it all seemed wrong. The bag's handles had felted unevenly, and no amount of stretching could right the wrong. And the bag had messed with its geometry a bit, and I was not pleased. So, a blank CD to round out the base, a pile of scraps to smooth the sides, but still the opening was wrong.
So I put it on my head. Because heads are round, and I wanted a round opening on this bag. And that is when I realized it isn't a bag at all.

The Hat Mafia has claimed this felt for Roderick. And obliquely for Hieronymus Bosch.
Filed in felting | No responses yet
Leave a Reply